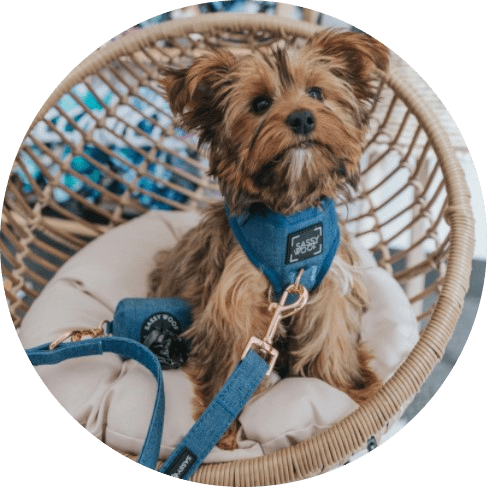 We're bringing the denim trend back
The early 2000s can have nothing on your pup as they rock this tried and true trend. With its rose gold accessories, this collection is a fabulous choice for pups of all breeds and sizes.
For your safe walks
Stylish denim leash for your dog
Add denim style to your pet's life
Give your four-legged friend a more trendy look with this comfortable and fashionable
denim dog leash.
Heavy duty metal D-ring
A sturdy D-ring at the base of the handle allows you to attach a leash and to hold waste
bags and keys.
Providing ultimate reliability
This dog leash is made of high-quality denim webbing, strong yet soft and flexible, in a
vibrant blue color.
For the ultimate comfort
The 'Denim' Dog Fabric Leash has a handle padded with neoprene for additional comfort
for dog owners.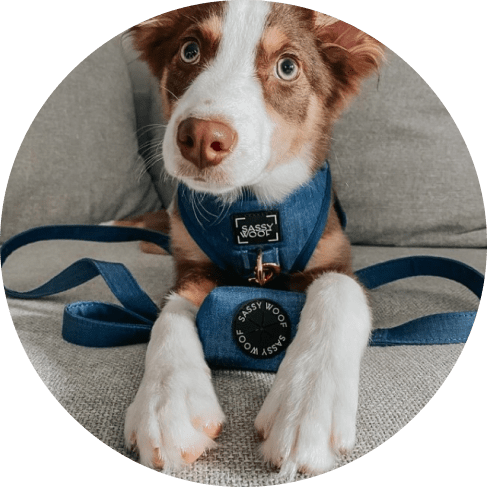 Perfectly sized
This amazing leash measures approximately 60″ in length and 0.8″ in width, which is just the right size for you and your dog.
Gives a handsome look
Be ready for compliments galore once your four-legged companion goes out in this new attire and becomes the star of your neighborhood!
It's an awesome quality accessory
The leash with an eye for fashion and originality
The smooth texture of the denim material allows for a comfortable fit that prevents any chafing in sensitive underarm areas. Also, a good dog leash must be resistant and made with high quality materials to last over time and to be reliable. The leashes that we offer you have all these characteristics.
About SASSY WOOF
Modern. Classy. Affordable.
Inspired by our two sassy & spunky dachshunds Maya The Dox and Winston The Dox, we created Sassy Woof to deliver a dog apparel experience that makes your fur-baby feel comfortable and fit for daily use. Our designs are the direct result of endless hours of careful thinking and meticulous attention to detail and crafting. We focus in developing new accessories and products every season to keep your pup's wardrobe as fresh as yours without breaking the bank. Our customers are like our family and we love interacting with each and all of you!
Sassy Woof is a small business proudly based out of the suburbs of Washington D.C. A portion of our proceeds are donated to animal charities because no pet should suffer in this world.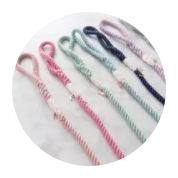 Designed In
Sterling, Virginia